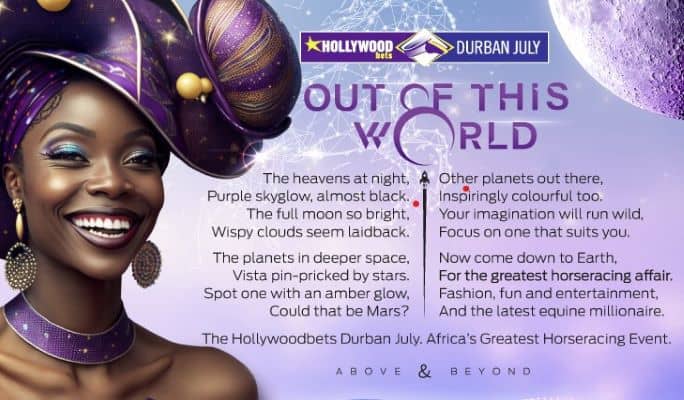 Hollywoodbets Durban July 2023 Theme
Since last year Hollywoodbets is the proud sponsor of the prestigious Durban July horse racing event. Last year's theme was "Show me the Honey" and overall the event a tremendous success. Now Hollywoodbets has announced the theme for 2023.
In this article we cover everything there is to know about the Durban July Theme 2023. The Durban July 2023 itself is set to happen on Saturday 1 July 2023 at Hollywoodbets Greyville Racecourse but as always the theme is revealed ahead of time.
2023 Durban July Event Theme
So let's announce this year's theme…. drumrolls please…..
the theme of the 2023 Durban July is: 'Out Of This World'!
The theme hints at the stargates which transports one into a mysterious world far beyond our imagination. Africa's Greatest Horseracing Event will feature a stellar line up of top equines, a star-studded cast of punters, celebrities and designers at play, coupled with entertainment and hospitality on a cosmic scale.
2023 Durban July Theme Poem
The Durban July theme launches every year as a poem which reads for 2023 as follows:
OUT OF THIS WORLD
The heavens at night,
Purple skyglow, almost black.
The full moon so bright,
Wispy clouds seem laidback.
The planets in deeper space,
Vista pin-pricked by stars.
Spot one with an amber glow,
Could that be Mars?

Other planets out there,
Inspiringly colourful too.
Your imagination will run wild,
Focus on one that suits you.

Now come down to Earth,
Fashion, fun and entertainment,
And the latest equine millionaire.
The Hollywoodbets Durban July.
Africa's Greatest Horseracing Event.

A B O V E & B E Y O N D
Durban July & Fashion
While the Durban July is a horseracing event it is also a fashion show. Fashion features highly on the race day agenda, connecting horseracing fans and social revellers. Therefore, all eyes will be on the horses as well as the outfits alike. The announcement of the Durban July theme kickstarts the celebrations.
You might know that each year the theme poem is announced to students from fashion design colleges and technikons across KwaZulu-Natal. Is is part of their curriculum and used as an inspiration for their entries to be shortlisted to participate in the Hollywoodbets Durban July Young Designer Awards presented by Durban Fashion Fair (DFF).
10 students from across KwaZulu-Natal will be shortlisted from an initial pool of 110 entrants. They will then have the opportunity to showcase their 'Out Of This World' designs alongside the DFF Rising Stars and the Invited Designers. This will take place at Gateway during June at the HDJ Fashion Experience Preview Gala. The Top 3 Young Designers will then get to display their creations for the more than 50 000 adoring fans at the 2023 Hollywoodbets Durban July.
Get ready for an event beyond imagination
Hollywoodbets only took over the Durban July in 2022 but with the "Out of this World" theme we can surely expect an even more spectacular event than in the previous year.
The Durban July is one of the most anticipated sporting and social events in our calendars and if the theme is translated well then the 2023 Durban July is going to be truly memorable. While the actual race day is still a few month away the ante-post betting is already open for the Hollywoodbets Durban July 2023. So head over to Hollywoodbets and have a look at the Hollywoodbets Durban July Antepost offering.
The Durban July Promotions are coming hot and fast with Hollywoodbets. On 21 April 2023 they gave away 127 tickets and this was followed by a competition where you can win a Hollywoodbets Durban July Experience.
R25 Free Bonus +
50 Free Spins
Leading South African bookmaker who offers the best in sports betting and casino games entertainment - a must for every punter!
Great, competitive odds
Generous, regular promotions
Live In-Play, BetGames, Lucky Numbers
For more information about Hollywoodbets also have a look at our detailed Hollywoodbets review. As well as our various news articles. Closer to the actual race day we will of course feature special Durban July 2023 promotion articles as well as updates. With a theme like "Out of this World" the 127th Durban July is going to be a truly spectacular horse racing and social event. If you want to be live at Hollywoodbets Greyville Racecourse in Durban on 1 July 2023 then have a look at the Durban July event page. Tickets will go on sale from 17 April 2023.